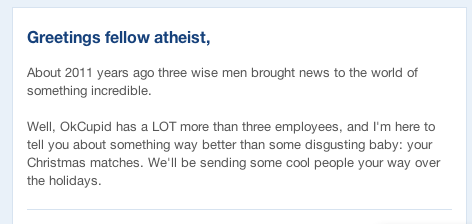 I just received an odd message from OkCupid, as shown above. The text is:
Greetings fellow atheist,

About 2011 years ago three wise men brought news to the world of something incredible.

Well, OkCupid has a LOT more than three employees, and I'm here to telly ou about something way better than some disgusting baby: your Christmas matches. We'll be sending some cool people your way over the holidays
Interesting marketing approach, definitely fits with the site's irreverent approach to … well … everything.